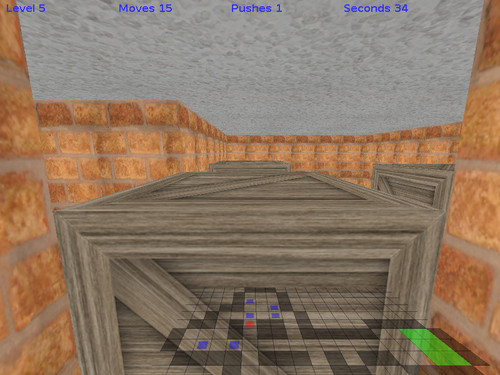 English

There has been a major update:
Crate Pusher now includes 90 levels taken from the game XSokoban available in the public domain. The first four "learning levels" are still included in front
The map display has been improved to give a better overview
There is a high score list saved in the same directory as the Crate Pusher file
The perspective has been adapter a little
If you push a crate you will automatically follow it
Manual has been improved for people less familiar with computers
Some improvements to reading external level files
German
Es gab ein größeres Update:
Crate Pusher enthält nun 90 Level, die von XSokoban übernommen wurden (public domain Spiel). Die ersten vier "Trainings Level" sind immer noch am Anfang enthalten.
Die Kartenanzeige wurde verbessert um bessere Übersicht zu gewährleisten
Es gibt eine Bestenliste, die im gleichen Verzeichnis wo Crate Pusher gespeichert wird
Die Perspektive wurde ein wenig angepasst
Wenn man eine Kiste schiebt, folgt man ihr automatisch
Die Anleitung wurde für Leute, die selten Computer benutzen verbessert.
Das Laden fremder Level Dateien wurde verbessert.